Failure to Develop a Blue Line May Have Cost the Flyers JvR
Saturday night against Carolina, the Flyers dressed Kimmo Timonen, Luke Schenn, Braydon Coburn, Nicklas Grossmann, Kurtis Foster, and Bruno Gervais as their defense.
All six shared one thing in common -- not a single one of them were drafted by the Flyers.
In fact, the Flyers have a consistent issue with things like that. Since the lost season of 2004-05, the Flyers have not gotten more than 150 games played from a defensemen they drafted and only one home grown defensemen has played more than 200 games in a Flyers uniform since that time, Randy Jones, an undrafted defender.
This inability to draft and grow defensemen manifested itself in an ugly way when Chris Pronger's concussion issues caused him to disappear from the Flyers blueline and forced the Flyers to trade stud forward James van Riemsdyk to the Toronto Maple Leafs for underperforming Luke Schenn.
In order to show how this is, it will be necessary to look at roughly 10 years of draft data, just to show who the Flyers passed up and who they gave up on.
In 2002, the Flyers took a defender with fourth overall pick when they selected Joni Pitkanen.
Pitkanen would play 135 games in a Flyers uniform prior to being traded to Edmonton with Geoff Sanderson and a third round draft choice for Joffrey Lupul and Jason Smith. Those 135 games would never be equaled again by any defender drafted by the Flyers.
In fact, the 2002 draft was terrible for the Flyers in general, they had seven choices and only two players would make the NHL, Pitkanen and 6th round choice Joey Mormina, with one NHL game played.
In the 4th round of the 2002 draft, the Flyers took Rosario Ruggeri with the 105th selection from the QMJHL, leaving the following defenders on the board: Tom Gilbert (129) and James Wisniewski (156) still on the board.
The Flyers selected Nikita Korovkin (192) and Joey Mormina (193) just after Ian White (191) was taken by Toronto. Meanwhile, NHL regulars Dennis Wideman (round 8) and Jonathan Ericsson (round 9) were taken after Korovkin and Mormina.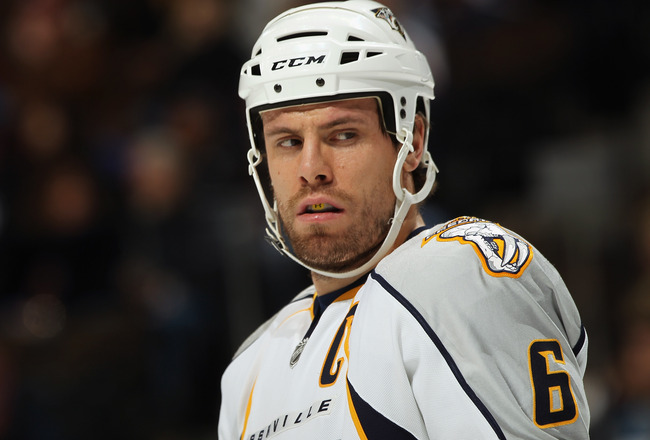 Maybe this is a failure in the Flyers scouting system or draft strategy. In 2003, the Flyers, like every team in the NHL, passed on Shea Weber who fell to 50th overall, but to call Mike Richards and Jeff Carter failures of the picks the Flyers passed on Weber would be unfair.
After Weber, three quality NHL defenders were taken in the 8th round, Tobias Enstrom (239), Dustin Byfuglien (245) and Shane O'Brien (250). The Flyers took three goalies in rounds five and six who played a combined 0 NHL games instead of these three players.
Well, maybe this can be blamed on Bobby Clarke, during the 06-07 season; Clarke, who presided over these drafts was replaced by Paul Holmgren. Holmgren had the second overall pick and took James van Riemsdyk, electing to trade Pitkanen away.
Holmgren also stole two defenders with brilliant trades as he nabbed Braydon Coburn from Atlanta for Alexei Zhitnik; and acquired the rights to sign Kimmo Timonen, with Scott Hartnell, for Nashville's first round draft pick that came over in the Peter Forsberg trade. Both Timonen and Hartnell signed almost immediately with the Flyers.
Timonen and Coburn have been a steady pair, and the odds that Holmgren could have gotten a better pair than them out of those drafts is slim.
The only mistake Holmgren made was taking Kevin Marshall with PK Subban still on the draft board in the 2nd round of the 2007 draft. Subban would have made perfect sense in 2007, as the Flyers only right handed defender in that season was the departing and seasoned captain, Jason Smith.
But maybe Holmgren just assumed he would be able to replicate this success in trading for defenders. But in the 2008 offseason, luck reversed itself for him.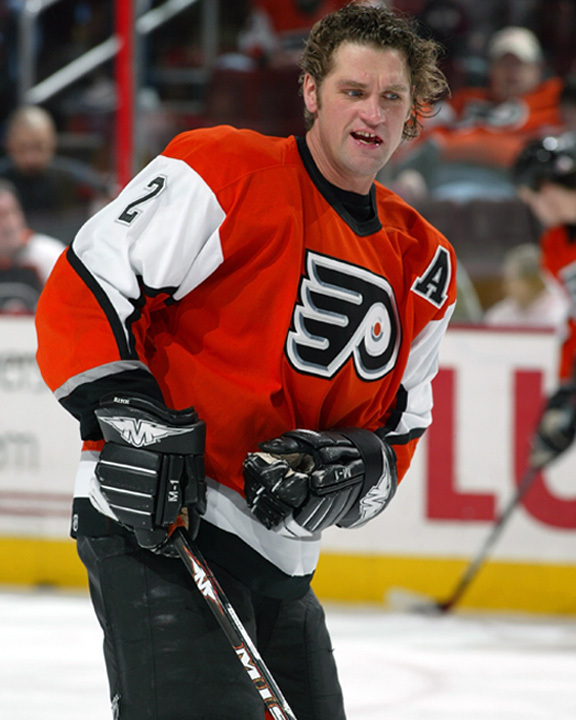 Heading into the 2008-09 season, the Flyers needed a defender to replace the injured Derian Hatcher and departing Jason Smith. They were also beginning to run into salary cap trouble as Mike Rathje was taking up LTIR space.
At the draft, Paul Holmgren dealt RJ Umberger to Columbus for a first round choice the Flyers used to take Luca Sbisa, and then dealt his own pick to Washington for Steve Eminger. Eminger would last only a couple weeks in Philly before being sent away along with Steve Downie for defenseman Matt Carle.
Washington took John Carlson with that choice.
In 2008, Marc-Andre Bourdon was taken in the 3rd round, in a pick that could have been a steal. Bourdon's size, decent puck moving skill and physicality make him a well-rounded defender.
Sadly, health has never been a strong suit of Bourdon's. Since being drafted in 2008, Bourdon has had at least one significant injury every season, including several concussions.
In 2009, after a second consecutive playoff loss to Pittsburgh, the Flyers gave up on Sbisa. After botching his development by not sending him back to Juniors and burning his first year of his ELC, they traded him and Joffrey Lupul as well as two 1st round picks to Anaheim for Chris Pronger.
Pronger was no doubt a huge part of the Flyers 2010 team that lost in the Finals, but at the same time, giving up on defensemen and poor drafting put the Flyers in this bind.
At this point, the Flyers have passed on so many defenders that they were forced into having to sign plugs like Andreas Lilja and Bruno Gervais. These plugs are now keeping guys like Brandon Manning and Erik Gustafsson from developing at the NHL level.
After the slow start this short season, the Flyers have a new option; trade Kimmo Timonen for a young defender and a draft pick. Use the pick to get another defender and commit to the young guys. Start a slow rebuild and go from there.
Where do you find good defenders in the draft? The second round.
Some very good blueliners the Flyers have passed on were second round picks. Names like Shea Weber, Matt Carle, Nicklas Grossmann, Duncan Keith and PK Subban were all second round picks.
The only problem, the Flyers love trading their second round picks. Pavel Kubina and Andrej Meszaros were both acquired for second rounders. In Paul Holmgren's tenure, the Flyers have picked just one time in the second round, Kevin Marshall in 2007. This needs to change for the future.
Had Holmgren played his cards right, he could have had a defense of Carlson, Timonen, Coburn, Subban, Grossmann and Meszaros, had he really played his cap situation right, he could have had a good, affordable goalie like Tomas Vokoun behind them and kept the forward core intact.
Instead, he was forced to sell low on van Riemsdyk and sign a bunch of plugs.