Without their leading scorer, Flyers offense doesn't skip a beat
Nothing was going to stand in front of the Flyers tonight; not even the absence of the NHL's leading scorer.
With Claude Giroux back in Philadelphia nursing a concussion, the Flyers offense erupted in a 5-1 win over the Washington Capitals on the road. It was the first Flyers win in Washington since the 2009 season.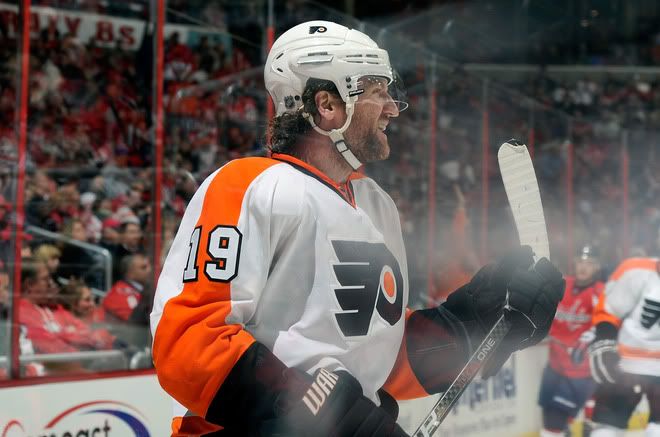 Stepping into the centering role on the Flyers hottest line was eighth round draft pick Sean Couturier. Without Giroux, the top line didn't skip a beat when Scott Hartnell found twine for the sixth straight game, giving the Flyers an early 1-0 lead.
Hartnell's tally was his 15th on the season, good for second on the Flyers.
But it was also a milestone goal for the 29-year-old left-winner. It was the 200th goal for Hartnell, who tossed a soft shot at the net that got through Washington goalie Thomas Vokoun's five-hole.
Hartnell's tally was the only one the top line would put up on the scoreboard. It was the rest of the Flyers team that stood up in Giroux's absence.
Every single one of the Flyers five goals started from the blue line.
Matt Carle had a pair of assists on the game and finished with a plus-3 rating. He also led the team in ice time, logging 25:27 seconds of time without Chris Pronger.
Rookie Marc-Andre Bourdon fueled the big three-goal second with his first NHL tally from the point and finished with a plus-three.
Braydon Coburn even got into the act of scoring with his assist on Maxime Talbot's goal in the 2nd period to make it 4-0. But the highlight of Coburn's night was his defensive prowess, including him matching up and shutting down Alexander Ovechkin a handful of times one-on-one.
As for goal scorers, Wayne Simmonds, Talbot and Jake Voracek all got into the scoring act as well. It was Simmonds' fourth goal in five games as well as the young winger has turned his offense back on in the past two weeks just in time for the month of December.
The scoring explosion was more than enough for goaltender Ilya Bryzgalov, who stopped 31 of Washington's 32 shots for his 14th win on the season
The Flyers now improved to 6-0-0 for the month of December. They will look to continue their hot streak on Thursday as they travel to Montreal to face the Canadiens on Thursday.