Sestito, Shelley are irrelevant to the Flyers
The one-trick pony enforcer is dying in today's NHL.
No longer is it worth having a guy on the team who only fights and skates five minutes of ice time per game. Instead, the guys who are willing to drop the gloves also have a clue as to what to do with a hockey stick and when the puck is on it.
That leaves Jody Shelley and Tom Sestito practically irrelevant on the Flyers and their pursuit of a successful season.
On and off, the two have been in the line up for the Flyers. And in the rarest, and most unfortunate occasions, the two goons were in the line up together for five times this season. In those five times, the Flyers are 1-3-1.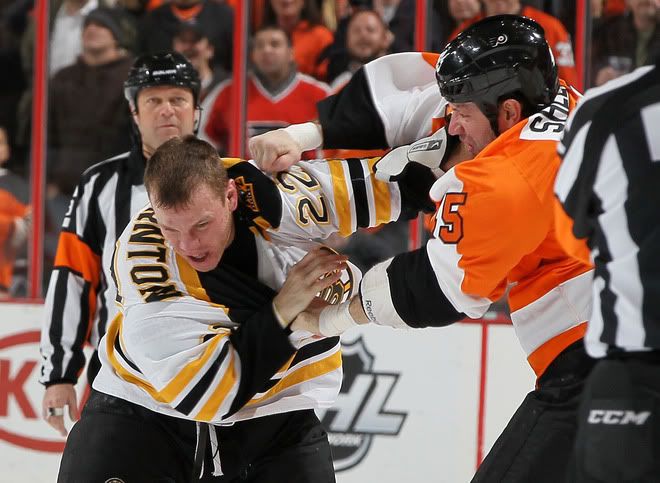 Sestito has played nine games this season with the Flyers. In all but two of them he registered at least two penalty minutes. And in five of those games, he has fought a total of eight times.
As far as offense, Sestito has one assist and is a minus-2.
Most recently, Sestito fought three times in the Flyers 5-2 loss to the New York Rangers, getting a 10-minute game misconduct on top of it. The best stat though: 25 penalty minutes in 3:48 seconds of ice time.
The first two fights came against Rangers forward Brandon Dubinsky and defenseman Stu Bickel. In his third fight of the afternoon on Sunday, Sestito was allegedly caught pulling Brandon Prust's hair. Fortunately for Sestito, he will not be fined or suspended for the hair pull.
But despite all of that, Sestito will still crack tonight's line up again, even with the return of Danny Briere.
Instead, Jody Shelley will be scratched from tonight's line up, proving his continued non-existence on the Flyers roster as he's been scratched more times than he's played this season.
This season, Shelley has played in 21 games, and just like Sestito, has managed to find the scoresheet only once with a helper.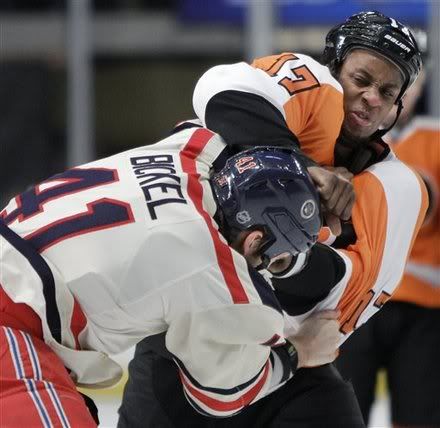 Shelley has fought a lot less though, only four times all season. He also went 16 of his 21 games without landing himself in the penalty box. This is partly due to the fact that Shelley averages about four minutes of ice time whereas Sestito has skated at least seven minutes in all but one game.
What is making these guys less effective for the Flyers' success is the fact they have five other forwards who can also drop the gloves, throw the body around and agitate while still contributing offensively.
Those five guys are All-Star Scott Hartnell, Wayne Simmonds, Maxime Talbot, Zac Rinaldo and the often-scratched Harry Zolnierczyk.
With teams looking for more players with the skill sets of the players mentioned above, it's obvious that the dodo bird, aka enforcer, is becoming less and less important to a hockey team's success until the joyous day they become extinct.
No more will there be the five minutes of ice time and at least five minutes of penalty minutes-per-game. No longer will there be a combined 30 games, 81 penalty minutes, minus-8 and two points.
No longer will there be a place for Jody Shelley and Tom Sestito on the Flyers roster.