Read's three-point night propels Flyers
For the last 45 minutes, the Flyers were riding some inspired hockey.
It carried over from last night and the Flyers used a four-goal first period to beat the Phoenix Coyotes, 4-2, Saturday night.
The inspired play continued from last night when the Flyers erased a 3-0 deficit to beat the Anaheim Ducks to win 4-3 in over time. They started out this month with four points and that is as good a result the Flyers could ask for right now with the injuries.
It all started with Matt Read, who continued his incredible Calder-worthy season. He potted his 10th goal of the season to give the Flyers a 1-0 lead less than five minutes in.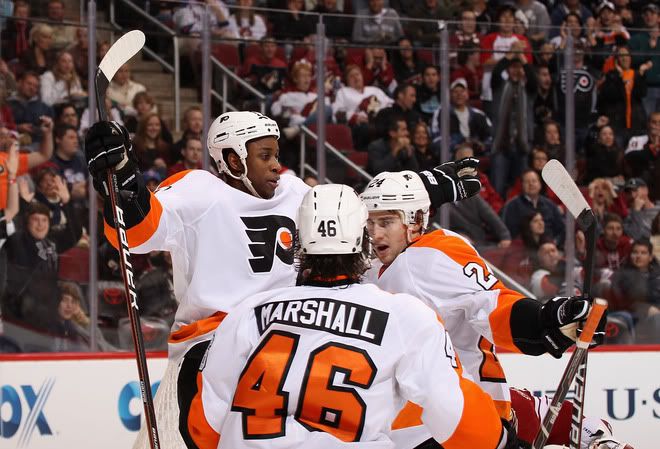 Read added two assists on the night as well. All three of his points came in the first period, the second time he did it this season.
Wayne Simmonds got himself into the act, scoring his first goal since November 14 to give the Flyers a 2-0 lead.
Claude Giroux made it 3-0 with his 15th goal of the season. His goal was his 32nd point of the season, tied for the league lead with Toronto's Phil Kessel.
Scott Hartnell capped off the scoring in the first period, banging home a one-timer from the stick of Danny Briere to make it 4-0. His goal was one of two power play tallies for the Flyers, who were 2-for-3 on the night only a day after going 3-for-9 in Anaheim.
Philadelphia slowed down a little bit in the second. Phoenix, who's strength is in their speed, finally found the back of the net on Ray Whitney's ninth goal of the season.
Outside of a late goal less than a minute left in the game, Bryzgalov shut down the Coyotes all game.
Bryzgalov was phenomenal in his first trip back to Phoenix since having his rights traded to Philadelphia in the off season. He stopped 36 of 38 shots to improve to 10-5-2 on the season.
After the game, Bryzgalov said he felt comfortable playing in his old building.
Getting back to Read -- He was a big contributor on the Flyers penalty kill, which shut down the Coyotes all four times.
Read showed his intelligence twice while on the penalty kill. In the first period, Read skated the puck all the way into the Coyotes offensive zone before halting and sending the puck all the way back down to his own end to waste time.
He did it again in the third on Phoenix's final power play opportunity. He has shown that besides scoring, Read can do the little things an NHL vet does right, making him a valuable asset to the Flyers early on in the season.