A Nightmare Finals: Why Are Fans Rooting Against Richards, Carter?
Let's face it: the Stanley Cup Finals will be a nightmare to watch for Flyers fans.
One scenario will see the hated neighboring-state rival New Jersey Devils raise their fourth Cup in 18 years, pouring more salt in the wounds of Flyers fans who haven't seen their team celebrate in almost four decades.
The other scenario will see the Los Angeles Kings win their first ever Stanley Cup, a team modeled after the Flyers organization thanks to former head coach John Stevens (assistant coach), former goalie great Ron Hextall (assistant general manager), and former scout Dean Lombardi (president and general manager).
But why not root for the Western Conference team? Because of two former Flyers named Mike Richards and Jeff Carter.
Their names leave a bad taste in the collective mouth of Philadelphia sports fans. People in this region don't associate the Kings to an exciting young team with one of the most exciting defensemen and goalies in the National Hockey League.
Instead, seeing two players who used to wear the Flyers crest raise Lord Stanley's Cup with a different team could potentially be the worst case scenario for an entire season many deemed a success for the Flyers organization.
There are a handful of reason's that second scenario could cause heartache to Philadelphia fans. For starters, many have crucified the duo as a pair of part animals with a lack of commitment to winning or the game of hockey.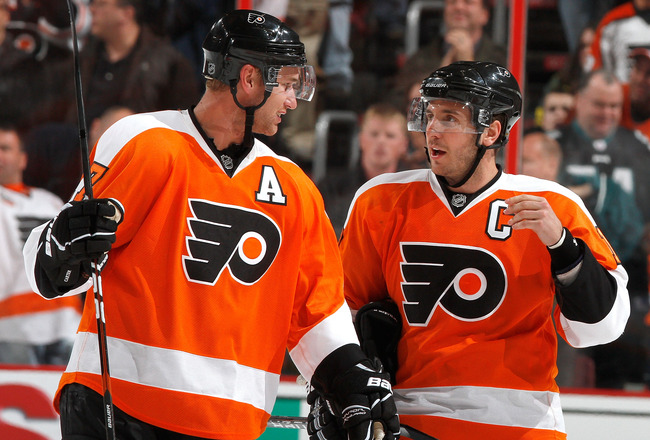 Personally, that's a load of bull and intelligent fans or people close to the team know that any of the off-ice antics of the two didn't reflect play on the ice.
Secondly, how the rabid Philadelphia media would handle such an outcome has forced some fans to turn their eyes to the Devils to stop the madness. Wouldn't it clearly mean that trading for the draft pick that selected Sean Couturier, rookie prospect Brayden Schenn and the young and gifted Wayne Simmonds and Jake Voracek was the wrong move for the Flyers to make?
Also, it has been made clear by Richards and Carter themselves at the beginning of the season that they were unhappy with the Philadelphia media, especially after the "Dry Island" fiasco occurred, further putting heat on the already departed star forwards.
Thirdly, a group of fans don't want to see the Kings win it for the sake of the fact some Flyers fans still can't let go of the fact that Richards and Carter are no longer wearing orange and black.
People will root for who they want, no matter what the circumstances are. But those three reasons have one thing in common that make rooting against the Kings for those reasons to be completely ridiculous: spite.
Spite is such a nasty word. But it perfectly describes why this group of people don't want Richards or Carter to raise the Cup.
Hell, even the Flyers owner Ed Snider doesn't feel any resent towards the two players he shipped off to Los Angeles and Columbus.
"It doesn't make it bitter at all," Flyers founder and owner Ed Snider said by phone from California on Tuesday to the associated press. "Quite frankly, I think it's more interesting to watch. I am very fond of Richards and Carter. I'd love to see them succeed. As far as Jersey is concerned, they beat us. If they win, at least we know we lost to the best."
It's a positive way to look at this whole scenario. On one side, people could see the team who beat the Flyers win the Stanley Cup, meaning they lost to the best team that season. And on the other hand, a select handful of players who once wore the orange and black will finally have their turn at being champions.
"You root for them because they're good players and we had really good years with them," said Flyers president Peter Luukko. "You want to see your friends do well."
Friends, indeed. Yet, there aren't many friends in New Jersey, especially with the playoff history the two teams have.
A brief reminder of the 1995 Eastern Conference Finals as well as the infamous 2000 Eastern Conference Finals leading to the first and second Cup wins for the Devils will always be fresh on Flyers fans' minds.
Surely being a part of a third Devils Stanley Cup run will leave a worse taste in the collective mouthes of Flyers fans everywhere.