Lundqvist shuts out Flyers
The game was hyped up by the media from the get-go.
In the first meeting of the season between the Philadelphia Flyers and New York Rangers, the Rangers took an early advantage heading into the Winter Classic, winning 2-0 at Madison Square Garden.
There were a lot of Flyers fans making the trip to New York, with a handful of pictures being tweeted of orange-clad fans in the concourse, in the stands and outside the Garden.
Philadelphia was slow coming out of the gate, being outshot 12-7 in a scoreless first period. New York was winning the races to the pucks and getting shots on netminder Sergei Bobrovsky again in the second.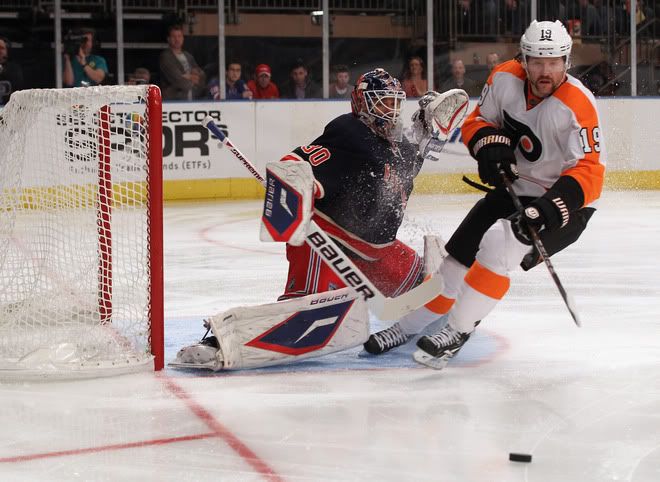 Wasting no time, New York's big offseason signing Brad Richards find the net less than a minute into the second frame, giving New York a 1-0 lead.
They continued to grind down the Flyers, frustrating them and not allowing them any sustained pressure
The Rangers took the lead into the third, adding another goal in the third period when rookie Carl Hagelin scored his first NHL goal off a bad rebound by Bobrovsky to make it 2-0.
That was all the cushion Rangers goalie Henrik Lundqvist needed to hold off the Flyers, stopping 29 shots for his first shut out of the season. The Flyers were starting to get shots on Lundqvist, outshooting the Rangers 14-10 in the third period, but shot after shot was gobbled up by Lundqvist, continuing the frustration that mounted all game.
Bobrovsky was strong in his second start in two days, allowing only two goals and stopping 30 of the Rangers' 32 shots.
The hype of the first meeting between the two rivals was apparent. Both teams will meet in the Winter Classic on January 2.
And with HBO starting up their 24/7 series on two weeks, they brought along their equipment. That included microphones on Philadelphia's Scott Hartnell, Max Talbot and coach Peter Laviolette.
They certainly picked up on a lot of intensity between the two rivals, who have squared off over 300 times in their 45 years of hatred.
They also got to see a handful of fights as Philly's Wayne Simmonds and Zac Rinaldo each went a round with New York's Brandon Prust among a handful of scrums.