Jagr named NHL's 3rd Star of the Week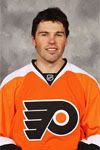 For the past week, Jaromir Jagr has been playing like his 24-year-old self.
15 years later it appears that the Czech winger still has a lot of that magic left in his tank.
Jagr's impressive five-goal, two-assist performance in four games this past week was good enough to earn him NHL's 3rd Star of the Week. He lost out to a pair of goalies, 1st Star Carey Price of the Montreal Canadiens and 2nd Star Nikolai Khabibulin of the Edmonton Oilers.
Jagr registered a point in each of his four games this past week.
Jagr scored his first two goals of the season, and as a Flyer, while adding an assist on Monday October 24 in the Flyers 4-2 win over the Toronto Maple Leafs. He then scored the team's lone goal in their 5-1 loss to Price and the Habs.
In the Flyers 9-8 marathon loss to the Winnipeg Jets on Thursday, Jagr recorded an assist on a Scott Hartnell goal and then added two more goals in the Flyers big 5-1 win over Carolina on Saturday.
Jagr also reach a mile stone in the Carolina game. His first goal was career number 650 for the 39-year-old, who is now 12th all time in goals scored with 651.
In the first game of the season, Jagr registered an assist to give him 1,600 career points. 10 points later and he is sitting in ninth overall.
In 11 games this season, Jagr has five goals and six assists, good for 11 points which is second on the team only to Claude Giroux and tied for 13th in the NHL.