It's time for Bob and Bryz to step up
Flyers fans will be adding something else to their letters to Santa Claus this year: making it out of December alive.
With defensemen Chris Pronger and Andreas Lilja shelved for the next 4-6 weeks with knee surgery and a high ankle sprain respectively, a lot of pressure is going to be put on the Flyers defense and net minders.
In December, Philadelphia will be playing 13 total games, with just three of them in the confines of the Wells Fargo Center. Of their 13 games, they will only see two breaks of three days or more.
Playing at least 13 games is a lot of time without two of their most experienced defensemen, including their best defenseman and captain in Pronger.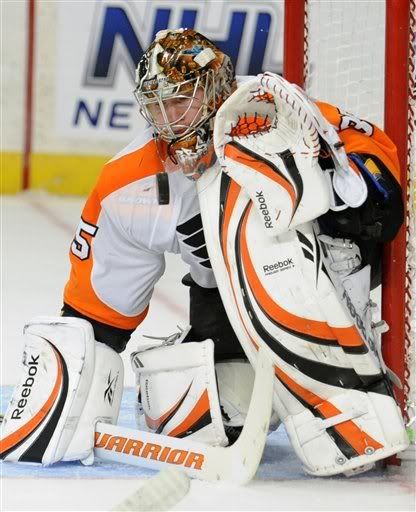 With Kimmo Timonen, Brayden Coburn, Matt Carle and Andrej Meszaros looking to be paired together, that means the Flyers could be seeing a pairing of Marc-Andre Bourdon and Kevin Marshall for an extended period of time.
That is, unless the Flyers are able to make a move for an experienced blue-liner to at least give the Flyers depth and veteran help rather than inexperience.
That now puts a lot of pressure on the Flyers two Russian goaltenders.
Both Ilya Bryzgalov and Sergei Bobrovsky have already seen time in net with a bad defense in front of them. Now, they are going to be tested once again.
But unlike last month, there is going to be a huge spotlight on the two netminders as well as the Flyers weakened defense.
With HBO in every corner and in the faces of the team and the Winter Classic's national setting around the corner, people will be waiting for the Flyers handful of rookies and young players to fold under the pressure.
That is why Bryzgalov and Bobrovsky will have to step up big time in the coming month.
Bryzgalov has started in 16 of the Flyers first 25 games. He has a record of 8-5-2 with 2.89 goals against average. Bobrovsky's stats are very similar, posting a 5-2-1 record and 2.82 GAA in the other nine starts.
Both goaltenders are absent from the top 30 in GAA in the NHL and Bobrovksy's .905 save percentage has landed him in the top 30.
Bobrovsky is incredibly athletic, using his tools to recover from being out of position. Bryzgalov is the other way around, using his ability to stay in position and control the rebounds to prevent second-chance goals.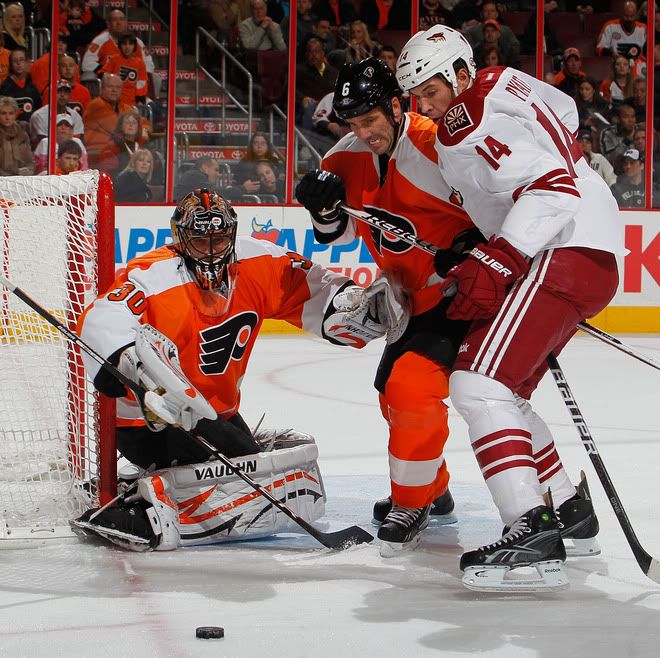 But both are having problems in other areas, including Bobrovsky's poor rebound control and Bryzgalov's inability to recover.
That is why this next month could be the most important month for the Flyers. Not only are 26 points on the line but it gives the Flyers an idea of how big a situation their goaltenders can step up in.
If you look at who they are facing next month, there can be causes for concern.
The month starts with a west coast trip to Anaheim on Friday and Phoenix on Saturday. The Flyers then come back to the east to play in Buffalo and play two home games against the Penguins and Lightning respectively.
On the week of December 11, the Flyers go back on the road to play in Washington and Montreal before playing their final home game of the calendar year on December 17 against the reigning Stanley Cup champion Bruins.
The remaining five games of 2011 are all on the road, starting in Denver on December 19.
The Flyers make their way to Dallas, back to New York for one final meeting before the Winter Classic and then to Tampa Bay and Pittsburgh before the Classic in Philadelphia on January 2.
Stay tuned for Part 2 of this post tomorrow. It will deal with ways the Flyers could bolster their defensive depth while dealing with the extended absence of Pronger and Lilja.
---
Roose is the founder of Team to Beat. Follow him on Twitter at @Roose_TTB.