Harper's Heroics Win Classic Game for Phantoms
For the Adirondack Phantoms, playing outdoors brought back some great childhood memories of playing with the fresh air in their face.
But for Shane Harper, his top memory will be how he won an outdoor hockey game for his team. For his career, it was "definitely number one for sure" in where the game winning goal ranked, leaving Harper with a hockey memory he will never forget.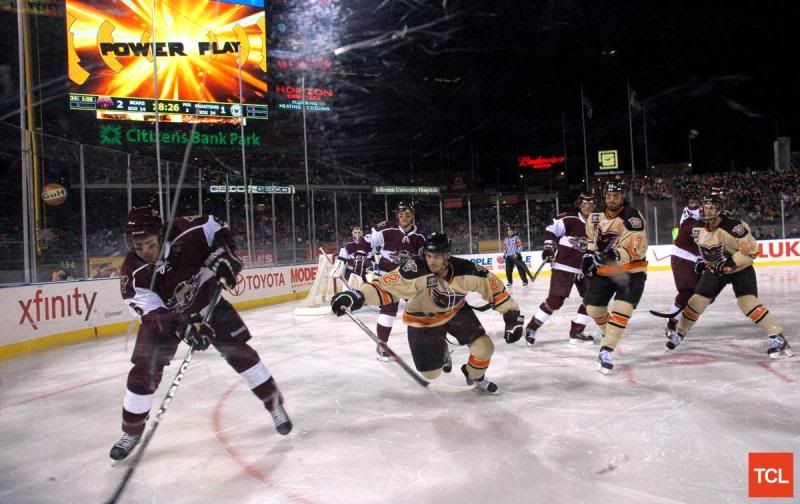 Harper's goal gave the Phantoms a come-from-behind win against the Bears, 4-3, in the AHL Outdoor Classic. It capped off a wonderful week of outdoor hockey at Citizens Bank Park in Philadelphia.
The Phantoms were still riding the momentum provided by Ben Holmstrom's game-tying goal with 20 seconds left in the third period. With the pace of overtime still fast for the Phantoms, it was Wellwood and Harper who took advantage of the odd-man rush to beat Holtby for a fourth and final time.
"I didn't know it went in at first," said Harper. "I think (Holtby) kinda got a piece of it and it went in. Then you have the place erupt and the team came off the bench. It was unbelievable. It couldn't have ended any better than that."
After receiving Wellwood's pass, Harper put a move on Holtby that left the netminder helpless.
"I got it on my forehand and wanted to take it to my backhand," Harper said. "I went five-hole. I couldn't really say I was going for it but I set it on the ground and it went in."
The Phantoms outshot Hershey, 44-27, with Holtby making 40 stops in the game. If Hershey could have stopped just a little bit of Adirondack's pressure the last two periods, it would have allowed the goaltender to steal the show.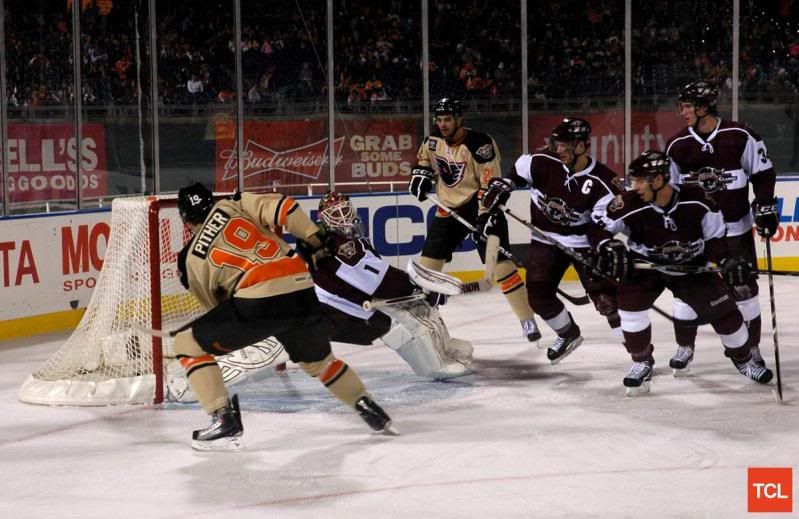 Hershey desperately clung onto a 2-1 lead heading into the second intermission, coming off a period where they were outshot 17-5. Holtby stoned Adirondack on all 17 of its chances in the second with former Phantom Kyle Greentree potting the go-ahead goal late in the second.
Adirondack continued their strong play in the third when Luke Pither tied the game up 2-2 on a Cullen Eddy rebound.
But Hershey's Graham Mink broke the 2-2 tie with just over seven minutes to play, beating Leighton on a one timer from the right circle. It was then Holmstrom's turn, tying the game up with 20 seconds left in regulation to set up Harper's heroics in overtime.
The three goals in the last 13 minutes of play erased a slow start that was sparked by Hershey's early strike. Chris Bourque's goal beat Leighton 28 seconds into the game, bringing on a chorus of boos from the crowd.
"We were a little nervous at the start but after the first 10-15 minutes I think we were the better team," said defenseman Erik Gustafsson.
Hershey's Bourque and Greentree both combined on each other's goals in the first and second periods. Bourque added an assist on the Mink goal, giving him a three-point night.
---
Photos by Dan Gold. Follow him (@danielcgold) and Roose (@Roose_TTB) on Twitter.