Gas in the Tank: Jagr proving he wants to stay in Philly
It was a match made in heaven, that is, unless you were a life time Penguins fan.
As heavenly as Jaromir Jagr's presence in Philadelphia has been for his career, his team mates and his fans, it's been rather hellish for the cross-state rival fans.
And unfortunately for those in the Steel City, it could last longer than the duration of the 2011-12 season.
While talking to reporters today, Jagr discussed his future in the NHL. At 39 years of age (turning 40 next month), that seems a little bizarre.
Better yet, he feels his future is filled with a lot of orange and black.
"(The fans) don't have to worry," Jagr said. "If I'm going to play good, I'm probably going to be here. If I'm going to play bad, what am I going to do here? I just don't want to sit around."
Jagr also specified that though he wants to play in Philadelphia, he won't discuss a new contract with the Flyers until after this season is done.
Jagr also attributed his health and longevity to how he's taken care of his body. And that includes the lack of alcohol consumption.
"No. My family never had alcohol in the house," Jagr said. "My dad never. My mom never. If you don't see if in the house… I never drank. I always had fun and never had to drink. I think people drink to have fun. I have fun when I don't drink."
At 39, going on 40, that's important to Jagr, who is an obvious health nut. And age aside, Jagr hasn't exactly played like his age has suggested.
Sure there has been some aches and pains that caused the right winger to sit out a handful of games this season, but the numbers and the presence on ice has made him live up to the $3.3 million deal he signed with the Flyers in the off season.
Money wasn't important to him last off season and he reaffirmed it won't be the most important this offseason. But he did suggest that money does play a bit of a factor in whether or not he decides to be a Flyer for the 2012-13 season.
"If the GM comes to you and says he's got $1.8M for you. What do they think of you as a player?" Jagr said.
The importance in the price of the contract to Jagr is if he isn't making a lot of money, he could easily be moved and he wants to make sure he has stability on the team.
"If you're going to make $1.2 million and struggle two weeks, you may be somewhere else," Jagr added.
Much like Jagr proved in the off season, the biggest bargaining chip for Jagr was who he was going to play with.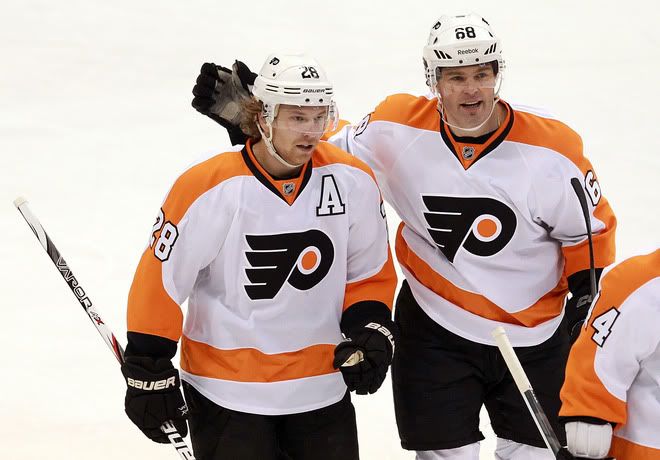 No one expected Jagr to have 12 goals and 22 assists, which is good for nearly a point per game through 38 games this season.
But the biggest impact he has made thus far this season isn't on his own personal score sheet. Instead, it's the impact he has made on the Flyers youngest and brightest star, Claude Giroux, as well as linemate Scott Hartnell while playing on the first line.
Giroux is tied for fourth in the NHL with 50 points and has his hat tossed in the ring as a top Hart Trophy candidate. Hartnell is having a career season so far, scoring 20 goals and tallying 39 assists while being on pace for a career-high in both numbers set in the 2008-09 season.
"Everything's kind of come together," Jagr said. "We've played good. We've got a lot of young guys. The coaches are great. The organization is great. It's like a family."
But things can always change and Jagr is fully aware of that.
"You never know what's going to happen the next 40 games or the playoffs," Jagr said in reference to sticking with the first line. "If everything would go the right way or maybe it is now, I don't think it'll be any problem (to return to Philadelphia)."
Through half a season, Jagr's presence on the Flyers has been nothing short of magical.
With another half of a season to play, the Flyers will find out how much gas is left in the Czech's tank, not just for the 2011-12 season but for the rest of his career as an NHLer.
-----
To read the full Q&A with Jagr, click here.
-----
You can follow Roose on Twitter (@Roose_TTB).