Flyers could be eyeing a defenseman very soon
This is Part 2 of yesterday's post on the Flyers goaltenders' need to step up big this coming month.
The goalies must do their job in the next month and a half.
But so does the rest of the team.
What will be interesting during that time frame is how the Flyers cope with the loss of Chris Pronger and Andreas Lilja as well as seeing how Marc-Andre Bourdon and Kevin Marshall handle stepping up.
Bourdon and Marshall are just two of the 10 rookies to have skated in the first 25 games for the Flyers. They are also joined by the injured Erik Gustafsson, who is a plus-6 in five games, as the only rookie defensemen.
If the two rookies don't step up or the Flyers feel they can't roll the dice with two inexperienced blue liners in the starting line up, a move will have to be made.
In a conference call on Monday, general manager Paul Holmgren didn't shy away from the possibility of trading for a defenseman before Friday's game in Anaheim. Who the Flyers have their sights on is still a mystery.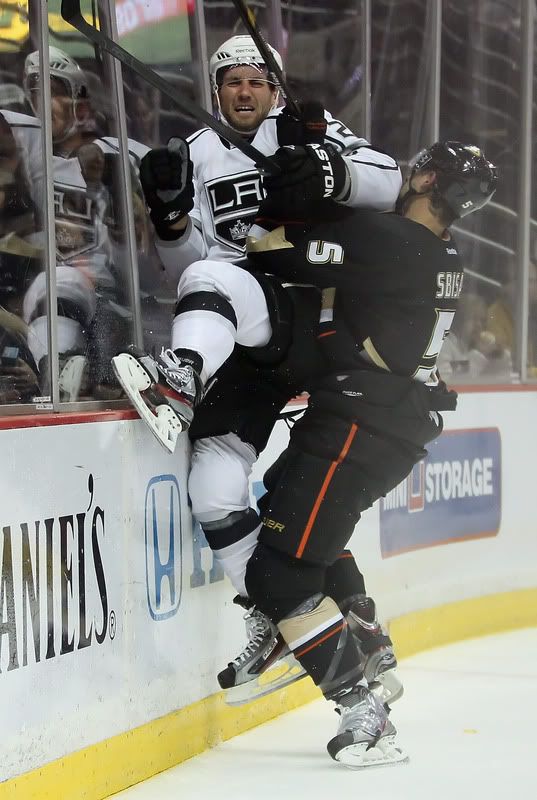 One interesting name that will surely rile up the fans is the possibility of bringing back Luca Sbisa. Sbisa was drafted by the Flyers 19th overall in 2008 so it's obvious they would have interest in him.
Sbisa was a big part of the trade that sent himself, Joffrey Lupul and some picks to the Ducks for Pronger.
In 99 games with the Ducks, Sbisa has only 17 points and is a minus-14. Last season was his first full season in the NHL, seeing him score his first two NHL goals as well as tallying 11 points in 68 games.
With a cap hit of $2.175, the Flyers would have to free up some money elsewhere in order to think about him as an option. But the 21-year-old hasn't recorded a positive season yet in his four years in the NHL, a cause for concern on a team that needs defenseman to slow the puck flow to the net.
The plus side to Sbisa though is the fact he's still only 21 and can really grow as a defenseman on a team that has players like Pronger, Kimmo Timonen and Brayden Coburn on it.
Another name tossed around already is veteran defenseman Brian McCabe.
McCabe, 36, is currently a free agent after spending the second half of last season with the Rangers. In 67 games last season with Florida and New York, McCabe was a plus-2 with 28 points.
McCabe is also experienced quarterbacking the power play. He could do a similar job to what Pronger does at the point when the Flyers have the man advantage.
McCabe's price would be interesting. With him being a free agent, the Flyers don't have to worry about taking on another contract via trade.
But the numbers from last season tell a different story.
In the 2010-2011 season, McCabe had a cap hit of $5.75 million, a number that will drop if he's signed elsewhere but probably not low enough to fit Philadelphia's budget if he thinks he can still play at a high level at 36.
McCabe could also take less money with him sitting at home and waiting for his phone to ring. Passing up on a chance to play with the Flyers would be bone-headed if he's still seeking a payday.
One thing that will help with money is the fact forward Andreas Nodl was picked up off waivers on Tuesday by Carolina. Nodl freed up around $850,000, money that could be used towards McCabe.
Then there is the possibility the Flyers don't make a move at all. Perhaps they feel that when Gustafsson is healthy, they will have a little more depth to work with.
But history says that isn't how the Flyers front office works. They aren't happy with what they currently have at defense, especially since they are always in the "win now" mode.
With a weakened defense and two goalies struggling to hit a hot streak, December could prove to be a problem for the Flyers if players don't step up or a move is made.
Either way, Holmgren is going to have his hands full and that letter he sends to Santa might be a little longer this holiday season.
---
Roose is the founder of Team to Beat. Follow him on Twitter at @Roose_TTB.