2nd period surge gives Flyers comeback win
One second.
It's amazing what one second could mean in a period of hockey. A shot in the NHL only takes one second and that one second made all the difference for the Flyers Wednesday night in Buffalo.
The final second of the first period was the only second worth noting for the Flyers. Giving up three goals in the first 19:59 of play, Max Talbot tapped in a pass from Jake Voracek with one tick left on the clock, changing the whole complexion of the game.
The last-second tally sparked the comeback for the Flyers, who roughed up Ryan Miller once again in a 5-4 win in Buffalo.
The Flyers were led by Claude Giroux's four-point night, including the overtime breakaway winner. Giroux now has 36 points on the season, tops in the NHL.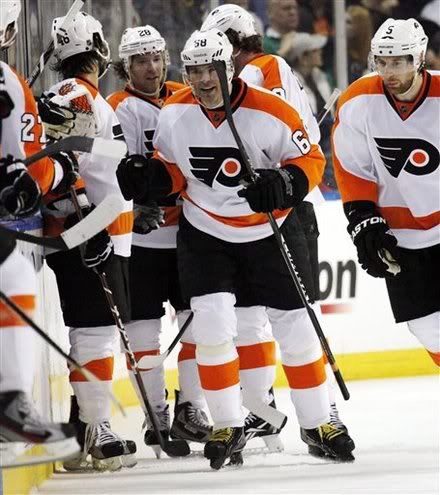 It was a terrible first period for the Flyers defense and goalie Ilya Bryzgalov. Former Flyer Ville Leino capitalized on a turnover by Brayden Coburn and gave the Sabres a 1-0 lead midway through the first.
Zack Kassian and Thomas Vanek got late tallies in the first to give the Sabres a quick 3-0 lead.
Things quickly turned around for the Flyers after Talbot's late goal. The second period saw three goals from the Flyers in which Giroux assisted on all three of them.
Matt Read continued his rookie tear with his 11th goal of the season to cut the lead to 3-2. Scott Hartnell then got his shot past goaltender Ryan Miller to tie the score.
Then the moves of Jaromir Jagr were put on display, this time the toe drag and snipe that gave the Flyers a 4-3 lead late in the second period.
Drew Stafford stole a point for the Sabres with under two minutes to play, tying the game at 4-apiece. But Giroux's over time winner made sure the Flyers got that second point back.
The Flyers are 3-0-0 in December so far, a very strong start to a 13-game month that sees 10 games on the road. It's an important month for the Flyers, who are without Chris Pronger and Andreas Lilja for a 4-6 week span due to knee and ankle injuries respectively.
Bryzgalov is also continuing his solid play, posting an 8-1-1 record in his last 10 games.
Granted Bryzgalov gave up four goals tonight, including three in the first 13 shots he faced, he was spectacular in the last 43 minutes of play, allowing a goal on the last 11 shots he faced.
Philadelphia will come back home tomorrow to face the Sidney Crosby-less Pittsburgh Penguins. It will be the second game of a three-games/four-days run for Philadelphia this week.