Flyers Collapse and Blow Lead... Again
>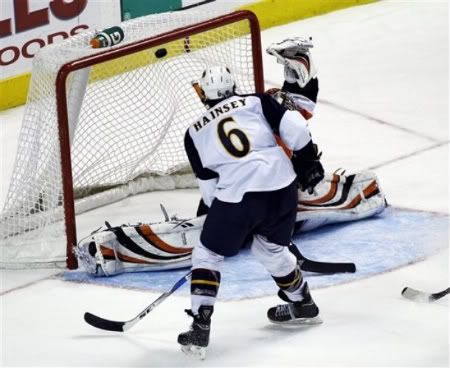 Photo Credit: AP Photo
Saturday night is a night that Flyers fans everywhere would love to forget. In a game where the Flyers had a comfortable 3-0 lead going into the third period you would not expect a loss, especially on home ice. But the Flyers did just that. They had every reason in the world to win tonight's hockey game and finally get a convincing win after their short losing streak that was ended this week, but instead they left themselves and fans shaking their heads.
The Atlanta Thrashers are one of the teams in the east fighting for a playoff spot. You know they are going to play hard every single game down the stretch. They have no choice. The Flyers, on the other hand, are fighting an internal battle. They know they are going to make the playoffs and they SHOULD win the eastern conference, but showing urgency rather than a lackadaisical attitude late in games is the battle for the Flyers right now. Clearly the Thrashers were the more determined team Saturday.
Things started off absolutely wonderful for the Flyers. Ville Leino scored his 15th of the season to give them a 1-0 lead late in the first period. Kimmo Timonen scored a shorthanded goal in the second to increase the lead, and Leino scored his second of the night on the power play to make it a 3-0 hockey game.
That is how the third period would start. What was there to worry about? There wasn't even pressure to get the shutout. Just keep playing hard and finish the Thrashers off to send the fans home happy on fan appreciation night.
The shutout was gone just over a minute into the third period thanks to a nice wrister from Evander Kane that awkwardly went by Sergei Bobrovsky. But there was still no concern. There are way more important things to worry about than getting a shutout. A win is perfectly fine.
There was some concern as the Thrashers made it a one goal hockey game in the second half of the period. A Zach Bogosian goal just trickled through the pads of Sergei Bobrovsky. Knowing how the Flyers have played in third periods lately, that was scary. You could almost sense something going terribly wrong.
Doubts and worries were pushed aside a minute and a half later thanks again to Ville Leino. Leino scored another power play goal from all the way out above the right face-off circle to complete the hat trick and restore the two goal lead.
But the excitement and energy would soon leave the building. The Flyers were still leading 4-2 with under four minutes to go. All they had to do was be careful with the puck and play solid defensively. But with just under three minutes to go, the Thrashers scored again, this time on the power play. Bobrovsky lost his stick and Kimmo Timonen went behind the net to retrieve it. It was a bad idea on his behalf. No one was covered in front of the net and Anthony Stewart found Tobias Enstrom open in front of Bobrovsky. He made no mistake and put the shot away. Suddenly it was a one goal hockey game with plenty of time for the Thrashers to tie it up.
The Flyers still had their chance to simply show they would not collapse completely. An empty net goal is not as difficult as they make it sometimes. Just bury the puck. Don't look for the perfect pass or the perfect shot. Unfortunately, the Flyers did no such thing. With 44.6 seconds remaining, the Thrashers tied it. It came from another turnover and atrocious defensive coverage in front of Bobrovsky.
There were no thoughts of: "Oh, well we can still win this thing in OT." All anyone could thing of was: "What the heck just happened?" An overtime win would have meant nothing and would not have been deserved. The Thrashers ended up winning in OT on a Ron Hainsey game. By then the game was already being looked at as an epic disaster to begin with.
It is mind-boggling how a team can play so well for two periods and then just let it all go. It keeps happening over and over again. Clearly they are not doing something right, so you have to wonder why it is so hard for a team with so much pure talent to do something so simple. It is crazy how much of a mental game hockey can be. What will it take for the Flyers to realize what they are doing wrong? It seems like the same thing is said after every game, win or loss. They are not finishing hockey games. This is a team that should be one of the Stanley Cup favorites. Are they waiting for April to start playing with heart for a full game? It is very unnerving and flat out frustrating.
No one wants to panic ove a team with a division lead and a conference lead, but right now it makes sense to be concerned. Danny Briere said himself that it's scary. It definitely is. Finishing games should not be so difficult. It is not a difficult thing to do. It just seems as if the Flyers get arrogant in the third period and assume they can just sit back. That is not okay at all. No lead is safe and these players should know that by now. As a spectator, it's hard to wrap your mind around something so simple as keeping a foot on the gas pedal for 60 minutes. But apparently it's not that easy. It was thought that the 7-0 loss in New York was a wake-up call, but maybe a disaster like this was what they needed to show that no matter how great things may be going in a game, just one ounce of laziness can turn a surefire win into a disaster of a loss.
The Flyers are a very good hockey team. They have enough talent to win the Stanley Cup. You cannot deny their talent and what they are capable of, but right now it's a matter of mental toughness and heart. And what this team is showing is that they do not have enough of either. All it takes is one game to turn that all around. Saturday's game could have and should been that one game, but instead players and fans are left searching for answers yet again.