Betts and Powe Show Their Worth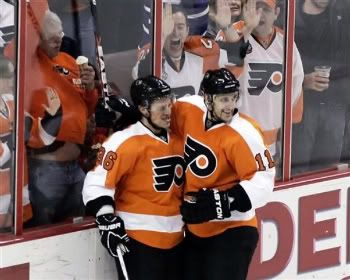 Photo Credit: AP Photo
Scoring depth has been a key to the success of the Philadelphia Flyers this season. The team has so many talented forwards to mix and match lines with. But as Blair Betts and Darroll Powe have shown this season, this cast of Flyers forwards does more than just score.
Betts and Powe have both recently ended long scoring droughts. Betts ended a 44 game goal drought last night and Powe ended a 34 game goal drought earlier this month. It was obviously fantastic to see both of those droughts end, but at the same time, there was never any need for concern.
These two guys are the definition of the perfect 4th line players and the perfect penalty killers. They'll score the odd goal, but that's not what they are getting paid for. If you pay close attention to Betts and Powe in a game you will see that each guy is a player that does all the little things right. They will block a shot on the power play, throw a big hit, and intercept a pass to send the play down the other way. They are honestly two of the most valuable players on this Flyers team.
A lot has been debated about Nikolay Zherdev recently. Some people cannot comprehend why Peter Laviolette will not put him in his starting lineup. It is a simple answer. He doesn't do the little things. Yes, he can score, but he doesn't play 200 feet. You can bring up every stat that you want, but he does not have that drive that Betts and Powe do. He is obviously not a 4th liner, but at the same time, every player has to play a little defense and with a little sacrifice.
One could question the season that Darroll Powe has been having. He has just 5 goals and hasn't really been as great offensively as he was last season. He has been more of a passer and hasn't really been having any luck scoring. This would be a case where the stats do not tell the story. Powe has become an even better penalty killer this season. He looks like a veteran player. His contract extension was only a year so there is no saying whether he will be back next season, but one would hope that the Flyers can squeeze him in. Powe has not missed a single game this season, but you can bet that he is one of those guys that even though he is not flashy when he is in the lineup, there is a void when he is not in the lineup.
Betts came in as a tryout last season and has not disappointed one bit. Injuries were really his only issue. The guy is incredible on the penalty kill. He has this way of always having his stick in the perfect position, and of course he is know for being a great face-off guy.
When you look at the stats for the season and think of Nodl and Zherdev, you may want to think of Betts and Powe to understand what's going on in Laviolette's head They are completely different players, but always know that stats do not tell the whole story. Blair Betts and Darroll Powe are just as valuable as any other forwards on this roster. And if you look back on Andreas Nodl's play in the Stanley Cup Playoffs last spring, you can tell just how similar he can be judged. More goals are going to be expected from him, but playing 200 feet will lead to success on any NHL team.